EKSKLUSIF: Result SPM aku!!
assalamualaikum sume!!!
alhamdulillah..sejuk je ari ni…
ari ni result SPM kuar dah kan…
so how is it??ok??
congrats tuk yg berjaya…Anak Che' Ta..Adik Elfira Loy…pandai diorang ni..
for those yg amik result ari ni sure la memang soklan tu jela korang dgr..
aunty2 sume memang favorite question nye tuk ari ni memang nk thu result korang..
tp macam aku dulu standard la..soklah asrama..
so nak kne tnye ngan aunty tu kurangla..tp majority schoolmate akan tahu la korang dpt bape..
cuma xla full resultla….
my school nye style bg result ikut how many A's u got..
so for those yg paling bnyk kumpul A for sure akan naik pentas dlu..
and guess what??
on that day..sume student akan berkumpul kt dewan…dari Form 1 smpai Form 6 atas..
so..u can imagine la cane kan perasaan tu..segan..berdebar lagi..
satu je..berharap la dapat naik pentas awal2…ngeee….
hurrrmm…so sempena hari result dikeluarkan ari ni..
dgn poyonye aku nak jgk join update pasal SPM..
ari ni aku nak share sket kegembiraan yang aku rse dalam sedikit frust few years back..
korang tgk sndri la…segan plak..hiks..
rsenye aku bole do better dari ni…
tp..alhamdulillah…syukur…
tadaaaaa…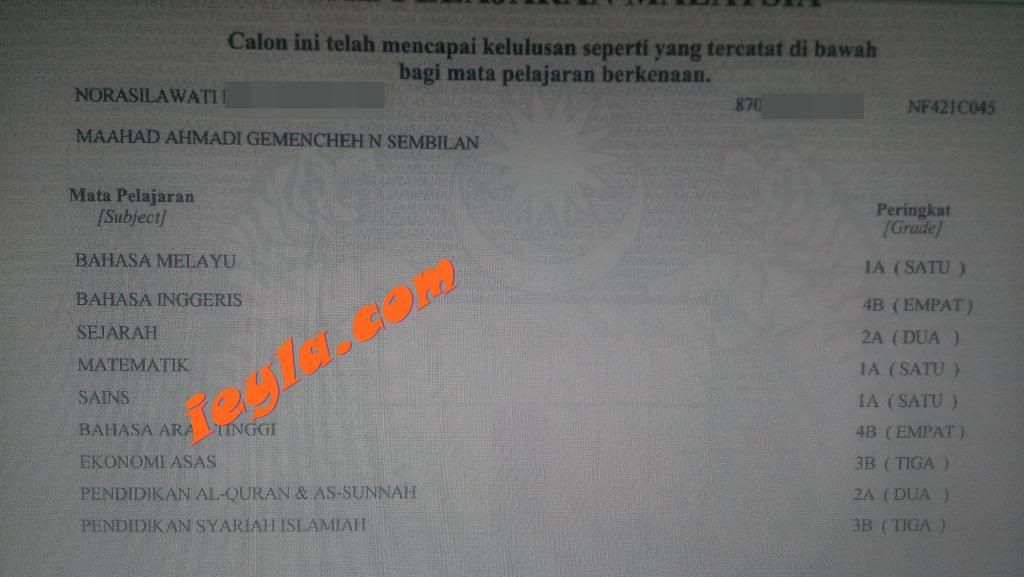 biase je…korang lg hebat kot..
frust ooo mule2 tgk result ni…
dlm hati duk ckp.."kalau usaha lbh sket bole ganti yg "B" tu jd "A"…
tp aku terima seadanya..syukur dgn apa yg aku dapat…
seriously ckp..aku bkn la dr group2 budak pandai yang memang jd harapan skolah..
tapi setakat nk naik pentas amik hadiah hujung tahun tu ade la jgk..
so..bagi adik2 yang xberapa nk berjaya tu don't worry…
mungkin tu cara Allah nak uji tuk kite lbh berusaha…
slalunye org yg gagal tu la yg akan lbh berjaya…
so…pasni try to do better…
mungkin ada mane2 silap yg perlu kite ubah and perbaiki…
so..goodluck adik2 yg nk menempuh alam Universiti…
the best part in ur education life…
enjoy k!!!
pppssssttt: sape nak join share result meh bg tahu aku…ngeee…
~LIKE~

Yang Ni Dah Bace??

apEsaL?